CƯỚI HỎI
[NEW] Magic: A Vanishing Hobby, by Amateur Magician Jeff Lindsay | lindsay magic – Sambeauty
lindsay magic: คุณกำลังดูกระทู้
Magic is a fulfilling and rewarding hobby for some and a profession for a few. For me, it's a hobby that adds fun to many aspects of my life. That includes interactions with friends and relatives, especially children (I have two grandchildren and many nieces and nephews) and enhancing professional lectures and presentations with occasional "demonstrations" to help make a point. It is fulfilling but demands practice, care, and discipline. It is an exciting and highly accessible hobby since almost anyone can take it up at low cost by just checking out some books from a library and beginning the adventure. However, it seems to be a vanishing hobby since it seems that fewer and fewer people are pursuing it in this era of constant digital entertainment (not to besmirch video games or other addictions, of course). For those of you smart enough to recognize that amateur magic represents a valuable skill that can help you throughout your life, this page is meant to offer some reflections and resources that might be of help, and also to share some thoughts from past experiences about the fun and excitement of this noble hobby for all ages and all economic situations. It's also an area where each performer, from beginner to expert, can add their own personality, twists, and even innovations. What a tremendous opportunity for creativity, fun, and personal growth! You don't need to be rich to get started. So what are you waiting for?
My Performances
In spite of being an amateur magician, I get plenty of opportunities for fun with magic. I often throw in a few magical effects as part of my technical or patent-related presentations that I gave. I frequently use it in presentations on technical topics at universities, conferences (especially those in China, where I currently live and work), and various companies. Discussions of new product development, intellectual property strategy, innovation, creativity, the rise of IP in China, biofuels, consumer products, or other topics I cover are likely to include something to highlight a point. I also do magic shows for service, such as for parties of friends or for educational groups, charitable groups or service organizations. For example, I used magic effects in a 2017 presentation celebrating UNIDO day and innovation in China at the Expo Center in Shanghai and previously in Singapore at their Innovation and Enterprise Week. Magic effects in the States include a presentation to the Wisconsin Telecommunications Association . At the 69th Annual Conference of the Wisconsin Association for Career and Technical Education held in the Radisson Paper Valley Hotel of Appleton, Wisconsin, I gave a one-hour presentation on "The Magic of Patents" aimed at teaching educators about innovation and the role of patents in our economy (and even in U.S. history). It was sprinkled with magic effects. I've done a couple performances for the Classical School in Appleton, and shows in Neenah, Wisconsin for the Fox Valley Christian Academy. Most of my magic, though, is done for friends at church, relatives, and my very patient family. Fun hobby! For details on what I do in a performance, see my "Typical Show" section below.
Magic is an exciting and rewarding hobby for me, though I am solely an amateur. I have been pursuing this hobby off and on since about age 11. Good books in a local library fueled my young interest, and it has persisted to this day. I prefer to perform for small groups (10-50 people), though I also enjoy close-up. I work hard to perform well, but I am an amateur – and some of you know what that means. Some of my favorite effects include ITR flotation, clippo, Anderson's torn and restored newspaper, Lethal Tender, color changing shoelaces, the Raven, Lethal Tender (try it with the Raven for one segment of the effect!), rice bowls, stratosphere, slush, Twisted Sisters, coin alchemy, mental epic, mirror penetration, Professor's Nightmare, sympathetic coins, miser's dream, various coin effects, pencil through bill (Misled and other forms), and some of my own attempts at innovation.
Wishful thinking: Magic ought to be an art form – and for some performers, it is. My favorite magician, the supremely talented and original Jeff McBride, exemplifies the power and beauty that magic can achieve. We amateurs often cheapen magic as art, leaving the impression that it is just a matter of buying tricks and "doing" them, often for unwilling audiences. The joy of experiencing art is too frequently lacking. Even my best performances still leave people saying "Wow, how did he do it?" rather than focusing on the joy of experiencing magic. I see that kind of joy in doing magic for young children, where the young mind focuses on the magic and not the hidden secret. I hope to eventually take my "tricks" to a higher level for adults as well.
My respect grows for the real artists out there. Keep it up!
Appleton, Wisconsin was the epicenter for an amazing magic celebration, the Houdini Days magic convention and festival held Sept. 2-5, 2004. It is amazing how much world-class talent descended upon our little town for this event. The big show on Saturday night, Sept. 4, at our beautiful new Performing Arts Center featured Ice McDonald, Michael Finney, the Comedy Magic of Mike and Chris, and Robert Baxt, with the second half of the impressive program reserved solely for the grand performance of the incredible Jeff McBride. The audience went berserk over McBride's performance, giving him a rousing standing ovation that brought him back three times and garnered an impressing bonus encore of his brutally skillful card manipulation routine. I'm still walking on air — without wires. And McBride seemed to enjoy the audience's extreme enthusiasm, and promised that he'll be back.
I've got a few photographs from the Houdini Days event (part of my collection of photographs from Appleton).
The Houdini Days festival included many hours of free magic performances in downtown Appleton. In addition to the performers I listed for the evening show, there were outdoors performances by additional masters like Michael Ammar (another of my all-time favorite magicians), Mark Wilson, Doc Eason, Joshua Jay, Ron Stetson, Dean Gunnarson, the Reed sisters, and more, along with some Wisconsin wizards like Rondini, Bruce Hetzler, Nate Nygren, Rex Sikes, Lou Lepore of Menasha, and an award-winning young man doing dove magic, Lee Haushalter of Brillion, Wisconsin. And there were free magic workshops for young magicians at the Appleton Art Center taught by some very talented magicians: Mark Wilson, Michael Ammar, Jessica Reed, Nate Nygren, Ice McDonald and Bruce Hetzler. How kind of them!
For magicians, there was a series of lectures on two days of the event by some of these magicians, including an amazing appearance by the master of big illusions, Franz Harary, a brilliant inventor and dazzling performer (Copperfield, for example, has used many of his effects). I was thrilled to learn more about his work and to meet him in person. He's an inspiration – and, like many magicians I've met, a really likeable and pleasant person.
Most wonderful of all, Jeff McBride offered a five-hour Secret Session Workshop for magicians on Sept. 3, with seats for only 25 people. I feel incredibly fortunate to have attended that class to learn from the magical wisdom of Jeff McBride. It was a transforming event for me, one that has inspired me to do more with my magic and to do more to advance this powerful medium for others. (Jeff runs the world's only school for magicians. Based on what I experienced in my five-plus hours with him, I can recommend him as a master teacher who can help people at any skill level. He's very kind and treats everyone with warmth and respect.)
Many thanks to Chris Cochrane and Mike Schroeder for making this event happen!
Wherever you live, whether you're a magician or just a lover of magic, you would be wise to consider coming to Appleton the next time we hold a Houdini Days festival. I'll keep you posted. Sadly, the hoped-for 2005 event had to be canceled due to a serious automobile accident that hurt organizer Chris Cochrane, but he's up and walking again, thank goodness! He did help organize a smaller event this October called "Shackled and Submerged." It was a family-friendly evening on Oct. 29 featuring a variety of acts, climaxing with a death-defying escape from escape artist Mike Schroeder, who was chained and submerged in the Radisson Paper Valley Hotel's swimming pool.
Let me describe some of the effects and sequences I employed during recent performances at an elementary school. Ostensibly, I was lecturing about how scientists innovate, but my "lecture" on the "magic of invention" was 90% magic show. I began by blowing bubbles using a commercial, ungimmicked plastic bottle of soap solution with a plastic tool for blowing bubbles. I explained that ideas are like bubbles – and most are empty, flimsy, and break upon contact with reality. But every now and then, a scientist can turn an idea into reality. I then reach for a bubble with my apparently empty hand and grab it, showing that is now an iridescent crystal ball, similar in shape and color to the soap bubble, but obviously solid. The ball is then vanished from hand to hand a few times, striving to follow a few touches from Jeff McBride.
The problematic interaction of ideas with reality is further illustrated using the needle through the balloon trick, in which a large needle with a yarn threaded at its end is send completely through a translucent balloon. A few of my own gags, as always, are incorporated. Love that effect.
I then point out that the purpose for innovation in a company is to make money, and if we use our imagination properly, we can turn ideas into money. I pick up my empty money bucket (I use a large can painted with a couple of Chinese characters) and perform my version of the Miser's Dream, with the emphasis being on money plucked from the children of the audience. Streams of coins are taken from elbows, shoes, hair, noses, and ears. Lots of fun.
Other effects that were used in various performances, all tied into my theme of ideas and invention and competing with others, included:
A Clippo routine in which I explain how I placed a length classified ad in the local newspaper to get my job at Kimberly-Clark – but I had to keep cutting the ad to get the costs down. At one point, a 45-degree angle cut is made, turning the column into a right angle bend because I felt the newspaper had become crooked, taking all that money with no results at all.
The Sliding Coin Box with jumbo coins – a rare effect custom made for Andy Dallas (Dallas & Co. Costumes and Magic, Champaign, Illinois) that I find superior to the old sliding die box that I once loved (and foolishly sold). I've added a nice touch to this for added impact.
Twisted Sister with jumbo cards – this left some audience members in such shock that I had to start thinking about first aid.
My favorite mind reading effect, adapted from an old effect by Annemann. A full deck of jumbo cards are given to the audience, allowing them to shuffle them. The cards are shown shuffled, then placed in plain sight. A member of the audience cuts the deck into two piles, and one half is placed on top of the other to mark the card cut to. I write a prediction on a slate, noting that I will write "what the name of the card is." I show the prediction: "The name of the card is…" It's a poor gag. Everyone groans. I explain I would have written what the selected card really would have been if only I had more space. The card is shown, and then I offer to write it's name down to complete my sentence. But first we must erase the chalk – oops! Some of the writing doesn't erase. The parts that can't be erased remain to spell the actual card selected.
A card rise in which the selected card leaps from the deck – two or three feet above the deck, spinning beautifully, to be caught by my free hand. Based on the card flip as taught by Jeff McBride, which I've combined with other elements to turn a great flourish into a card rise effect.
Airborne – my "lite" drink – a can of soda pop – is poured into a glass that begins to float with no hands nearby as the drink is poured
Anderson's Torn and Restored Newspaper – always a stunner and often my closer.
I also enjoy using Delite – the production of a red glowing lite that jumps around and does amazing things – especially as young kids walk into the room to warm them up.
Most performances include a floating Kleenex routine. I also often use the professor's nightmare (3 ropes). I'm also adding some card productions to my repertoire.
One of my favorite effects, one that I've never seen others perform, involves my own twists on something by the great mentalist Theodore Annemann. In one version, I hand a deck to spectators and have one or two people shuffle it and then cut to a card. I tell them that I have predicted what the name of the card is on a slate that I have turned away from the audience. The card is revealed. I turn the slate around and it says "The name of the card is" (in one version). Groan. I explain that I really knew the selected card but just didn't have space to write the full prediction, so to make space, I'll erase the slate and complete the sentence. As I erase the chalk writing, some parts of the message don't erase at all. The parts that are left actually spell out the name of the selected card. I use this effect sometimes when talking about patents and the concept of amending claims, trying to make sure that the narrowed claims still cover what we predict the competition will select. (Jeff McBride liked this effect when I performed it for the group in a McBride master class in 2004 – but of course, he's very polite.)
When time and creativity permit (rarely), I enjoy developing new effects (or new twists on old effects). Examples I call my own include:
Contagion(TM)

This is my version of a sponge balls routine where sponge ball (a big "germ") appears inside a sealed ziploc bag. And then another. I demonstrate how to "kill" these germs by making them vanish with high pressure, but in the hands of the spectators they keep multiplying. Desperate to stop the growth, I stuff them back in the bag and prepare to place it in an oven while resting inside a clear glass container (a Pyrex bowl). But before the over can do its trick, the sponge balls erupt in a cascade of violently reproducing "germs." This is my favorite effect, developed with 3 AM inspiration while contemplating magic in Shanghai, China.

Linking Chains

I've taken an old effect and added a couple of secret somethings that bring it to life, in my opinion. I show two two separated links of a chain and pretend to or actually do (you decide) link them together. I bring out a third separated link and add it to the other two to make a chain of three links. At this point I had the chain to the audience and show both hands empty. When I do it well, it can be quite mysterious.

Crackers and juice

Sitting on a solid table is a glass jar and a 2-quart carton of orange juice. Juice is poured into the jar. It's all real, can be drunk (the juice, not me). Two saltine cracker boxes are placed over the jar and the juice, then lifted. The jar and the juice have switched places. Juice carton is picked up, more juice is poured into the jar. Cracker cartons are placed over the jar and instantly raised, showing the juice and the jar have again switched places. Happens a couple of times. The cracker cartons are both turned towards the audience and ripped open. They are both empty. It's new and original, as far as I know.

ITR kite flying

A red silk can be examined. It is turned into a kite by tying a small knot. The "kite" is held near the mouth, which blows to provide wind. Performer lets go and the kite begins floating up (about a 45 degree angle away from the performer) in response to the wind, falling back if blowing stops. Can be done near the audience and the silk can be tossed back to the audience at end. (Also posted to EG, 1993.)

E-mailed dollar

Optional phase 1: Several dollar bills are borrowed. Serial numbers are recorded. Bills are shuffled and placed in a paper bag. At command, a blindfolded performer can remove any selected serial number from the opaque bag using "an incredible sense of touch." Bills are removed as called for, one by one, and serial numbers are verified. Phase 2: Someone randomly selects one of the bills borrowed from the audience (or a new bill is borrowed), carefully noting its serial number. While that bill is held in plain site by volunteer, the magician shows an empty envelope, seals it, and hangs it from a wire where it is in plain sight. The selected bill is now given to the magician, serial number is again verified, and the bill is vanished (can be ravenized, vanished in a card frame, or even burned). The magician claims that it is converted to electrons and electronically mailed, sent to the wire and into the envelope. The magician does not approach the envelope, but has a randomly selected person carefully open the envelope and pull out the bill that is really inside. No confederates are used anywhere in this. The serial number is compared to the bill that was vanished – and it matches. This effect combines some previously published ideas, but it is still largely original. It is one of the few tricks I have ever performed that have caused people to lose sleep thinking about it.

A killer empty-cup move for the combo chop cups and balls

If you're a legit magician and can prove it, I'll e-mail you this novelty. It allows loaded cups to be shown empty, one at a time, in a totally natural way. Was posted on the EG in 1993. It's powerful if you use the combo chop cups and balls.

Three-way global prediction

One of my favorites in performances, this mind-reading effect builds upon some previously known ideas. The audience is asked to call out names of countries and an assistant from the audience writes down these names on cards and places them in a paper bag. The magician then shows 10 large cards that each have the name of a country on them, noting that at least some of the names called out match those he has written on the cards. Hopefully, he can influence someone to pick a card from the bag that matches one of the cards. A randomly selected volunteer comes forward and picks a card from the bag but does not yet reveal what nation is selected (random selection of an audience member is done by tossing a ball or foam object over your shoulder into the audience, letting whoever catches it toss it to someone else who is the selected assistant). The 10 cards are placed in a row on a table or someplace visible to all, with the names face down or covered. Another random audience member is asked to pick a number between 1 and 10. The corresponding card is indicated, but not yet revealed.

The magician then shows a large globe and shows a furry helper, Rocky the Raccoon. Rocky is psychic and will select a country on the globe. To make it more difficult, Rocky is blindfolded, as is the magician (a blindfold and a paper bag are placed over the magician's head – he really can't see). Someone spins the globe. The magician holds Rocky over the globe. Rocky makes a nose-dive, and the country his nose hits is the "randomly" selected name, as verified by a spectator. When I did it last, it was India. The person who selected a card from the bag then reads and reveals the selection – which is also India. Finally, the card selected randomly from the 10 cards is about to revealed, but first the surrounding cards are turned over to show that they are not the chosen country. (If the spectator chose number 6, cards 5 and 7 are turned over to show Chile and Spain, for example.) Then the selected card is turned over – India again. Three-way global prediction. It's fun and has been well received.

Clippo tip

Clippo is one of my favorite classic effects. This is the one where a sheet of paper is cut in the middle, but when open up it is still joined together as if uncut. When I perform, I show a long strip cut from a column of classified ads (a single column without big type or photos, just a few little lines separating the small text of multiple ads) and talk about how I got my job as a chemical engineer (insert your profession here). I say I put a very long ad – a full column of text – in the paper describing all my wonderful qualities. Then I give a rather silly list, including "hardworking and upstanding," teacher's pet for the first two weeks of fourth grade, physically gifted with more than the average number of arms ("It's true – the average number of arms is 1.998, and I've got more!"), etc. After the first day and $600 for a full column, there were no calls. No calls at all! I couldn't afford to keep that up, so I cut out a few claims to shorten the ad (cut the center out here, then open it up to show it's still together). Then it was $500 a day, but still no calls – so I had to shorten again (snip). Do this a couple more times, still mentioning "hardworking and upstanding" as part of the retained list of claims. Make a 45-degree angle cut and say that after all that money and no calls from employers, you finally realized that the newspaper was ripping you off. That's right, it's a (open the column to show it has a 90-degree angle in it). Then, in desperation and almost out of money, I cut it down to the bare minimum – instead of "chemical engineer, hardworking and upstanding," now it was "chemical engineer, hard up" – and that's when [insert employer's name here] finally called. And the rest is history!

By the way, for those who know the secret of one of the tricks mentioned above, I get good results in spreading a certain powder uniformly by dumping some into the center of one ply of Kleenex© facial tissue (separated carefully from a two-ply tissue), folding together the edges of the tissue so the powder is held in the center, and shaking the tissue or hitting it against the target to repeatedly dislodge a fine shower. Less mess, more control, and allows more freedom in showing the treated object.
The following list is not in any particular order, except that my handful of favorite magicians are listed first, starting with my very favorite:
Dealers I know and like:
Penguin Magic

– My favorite and mist heavily used. Great effects and many instant downloads where you can buy a video for a fewbucks and get instant training on cool effects. Clearly one of the best sites I've seen. Filled with useful descriptions of effects and useful reviews. Free shipping is possible. Nice! Also check out their

links page

.
Magic, Inc., 5082 N. Lincoln Ave., Chicago, IL 60625. Phone: (773) 334-2855. Big selection, great catalog. The shop often sponsors lectures from stellar magicians. Jay Marshall, a famous magician, is the owner. A fun place to visit – but depending on who's in the store at the moment, you might not be able to get the help you need.

Dallas & Co. Costumes and Magic

, 101 E. University, Champaign, Illinois 61820.
Phone: (217) 351-5974.
One of my favorite magic shops! Andy Dallas is one of the nation's best escape artists and a top-notch performer. Extremely helpful, kind, and dynamic. He offers a huge selection with some custom items you won't find elsewhere. The prices are generally low. This is where I got Lethal Tender, one of the greatest close-up miracles ever. Andy also stocks a superior custom version of the color changing shoelace trick, one of my favorites for kids.
Paul Diamond's Magic, P.O. Box 11570, Fort Lauderdale, FL 33339 Phone: (305) 772-8067, or 1-800-330-2713 (orders taken around the clock)
Eddie's Trick Shops (three of them), Atlanta, GA. Good, friendly service!
Magic Masters, in hotels nationwide. Pricey – but fun to visit. I love the metal Chinese rice bowls I bought there, and Rocky the Raccoon.

MagicTricks.Com

– a new online vendor of magic. Lots of material, a well organized site, with photos. For phone orders, call 1-800-797-2760. (My recent order has been delayed substantially because items were out of stock. Check FIRST to make sure all items are in stock – if one is not, the whole shipment will be delayed.)
Others to consider:
Tannens Magic

– A true institution among magic suppliers. They recently moved their New York shop to 45 West 34th Street, Suite 608.
Hollywood Magic Inc., 298-D East 17th Street, dept MW-VA, Costa Mesa, CA 92627. Phone: (714) 646-4374.

Diamond Magic

, 515 Lowell Street, 2nd Floor, Peabody, MA 01960
Phone: (978) 535-8950

Chazpro Magic

, P.O. Box 41415, Eugene, Oregon 97404. Phone: (800) 730-0032.

The Magic Warehouse

Magic Reviewed

— great website with reviews of commercial tricks. Good to check before you buy.
The Magic Palace, 236 North Glendale Ave., Glendale, CA 91206.
Phone: (818) 246-1128

Mike Powers Magic

For Europeans: EGELO, Tordenskiolds gt 12, 0160 OSLO 1, NORWAY. Phone: +22208085, Fax +22208085.
EGELO is said to have the largest magic video collection in Europe, along with books and an amazing collection of new items and classics.
These are some books that I own (one or two have been borrowed):
Mark Wilson's Complete Course in Magic, Ottenheimer Publishers, Inc. Phil, PA, 1988.

Mark Wilson's Complete Course in Magic by Mark Wilson and Walter Gibson.

For amateurs like myself, this book is a must buy! Loaded, extensive, broad, reasonable in its demands, and fascinating in its breadth (472 pages on numerous topics, small print, concise)/ It is clear, well illustrated and cheap! (I got mine for $18 on sale.) 160 pages are devoted to card tricks, about 50 pages to coins, 10 pages to currency, 30 pages to ropes, about 25 pages to silks and handkerchiefs, with more pages for rubber bands, mentalism, sponge balls, cups and balls, billiard balls, larger illusions, and make-it-yourself tricks. (Frankly, the book may be irresponsible for the number of effects that it reveals.)

The Klutz Book of Magic by John Cassidy and Michael Stroud, Klutz Press, Palo Alto, CA 1990

This is an excellent book for beginners. It is a collection of 31 tricks that have been carefully selected from thousands of candidates for their effectiveness and ease of performance. Some require skill, but the effort is well worth the investment. This book is unusual in that several props come with it, including a metal ring (about 3″ diam.), a nice piece of colored cord, a rubber sheet for coin through rubber, a t. tip, and a silk. The book has an especially good selection of effects with string or rope. My favorite effects are:

(1) "Silken Dollar," in which a silk is extracted from a borrowed dollar held in empty hands

(2) the famous "Fruit Card Trick," in which a corner is torn off from a card selected by a spectator. The rest of the card vanishes and is found inside an orange. The torn corner held by the spectator matches the missing corner of the card in the fruit.

(3) Ring Flip – a ring is flipped onto a loop of string, becoming miraculously connected with a knot. This effect is visually appealing – and requires considerable practice!

Bev Taylor's Town House Magic, compiled and edited by

Bruce Hetzler

, Town House Publications, Appleton, Wisconsin, 1993.

A truly enjoyable and worthwhile magic book! Dr. Bruce Hetzler (see

HetzlerMagic.com

) has done a great job in paying tribute to Town House Magic and in sharing the magic of Bev Taylor. A few effects may be dated, but most are timeless and exciting. The price of the book (whatever it is!) is more than justified by the detailed plans for the stunning Visible Block Penetration and the Improved Westgate Bowl Production, but there are many more great effects for stage and close-up. Some of the patter ideas are quite instructive for performers wondering how to approach a trick. (Kudos to Bruce Hetzler, who is a magician in my town of

Appleton

, Wisconsin, and a Professor of Psychology at

Lawrence University

. Bruce also volunteered for our former Society of Young Magicians, helping to teach dozens of local children the art of magic.)

101 T. Tip Tricks, booklet by Gary Darwin, 1994, with forward by Harry Blackstone.

A short booklet with many excellent ideas for the t. tip. Several useful sleights are taught first, including some that were entirely new to me. Then 101 effects follow, some of which are truly stunning. I purchased mine for $2 from Ash's magic shop in Chicago. What a deal!

Modern Coin Magic by J.B. Bobo, Dover Publications, New York, 1982 (softbound reprint of the 1952 classic).

One of the best books I own. If you enjoy coin magic, this is the place to begin. Full of excellent sleights and effects for all skill levels (many going far beyond my limited abilities). 236 coin tricks and 116 coin sleights are covered. Some gimmicked coins are treated, but the coverage is relatively light. The strength of the book is in its true sleight of hand. A few effects are out of date (requiring clothing or coins that aren't commonly available), but many are immortal. Pick a few effects and practice feverishly!

Newspaper Magic by Gene Anderson and Frances Marshall, Magic, Inc., Chicago, IL, 1968 (1991 printing).

Many useful (and some not so useful) effects with newspapers are included here. Clearly, the highlight of this book – completely worth the $12 or so you'll pay – is Anderson's Torn and Restored Newspaper effect. I use this regularly and it is simply stunning. A section of newspaper is shown. Page by page, front and back, the performer shows each of 8 pages made of two full-size sheets. The newspaper is then clearly torn up into a small, ragged bundle. No switching, bags, cloths, or mysterious movements are employed. The torn bundles is held in front of the spectators the whole time. The magician snaps or pulls it open, and it is the original newspaper again! Again, page by page, the magician shows that the whole newspaper is restored – and no signs of its once-torn state are evident. As close to pure magic as you can get, when done right. It takes careful preparation and considerable practice to avoid a number of subtle pitfalls, but is clearly worth the effort!
Other effects include clippo (a cut strip of newspaper instantly restores itself to an uncut sheet, though shorter by the size of the cut middle segment), Afghan bands (good variation), milk vanish in newspaper, some torn paper art, etc.

Paul Gertner's Steel and Silver by Richard Kaufman, published by Richard Kaufman and Alan Greenberg, 1994.

This is a book for serious magicians, especially well suited for close-up performers and those working conventions. Paul Gertner is an award-winning master of the art. The effects in typical magic books for amateurs look pretty lame in comparison. Gertner's steel balls and cups is a wonderful variation of cups and balls in which steel balls (not soft, silent, cloth-covered balls) appear under metal cups – and multiply and expand. Masterful. Ring on the Hourglass is a real miracle – honored by Copperfield. There are a variety of novel (and difficult) coin and card effects, including the introduction of some new general-purpose sleights. I paid $35 for this, ordering from Paul Diamond in Fort Lauderdale. Glad I own it, though there are only a few effects that are currently within my level of skill and determination (a great deal of preparation is needed for some of these tricks).

The Amateur Magician's Handbook, 4th edition, by Henry Hay, A Signet Book (New American Library), 1982.

This handbook was first published in 1950. It is a classic, though outdated in many sections in spite of a little revision (and a section by the Amazing Randi on shows for children). This is where I turned to as a teenager when I started getting really interested in magic. This is where I learned my basic sleights and several classic effects that I still love, such as Sympathetic Coins (4 coins migrate under two cards) and many other coin effects, sucker torn-and-restored Kleenex tissue (always amazes!), and Miser's Dream (coins are repeatedly plucked out of the air and placed into a bucket). Cards take up nearly half the book, followed by a big section on coins (much borrowed from T. Nelson Downs – and some effects seem nearly impossible to perform well), with a few other areas treated as well (silks, balls, linking rings, and cups and balls). It is an inexpensive paperback now, well worth the price.

Elastrix: The Encyclopedia of Rubber Band Magic by Ed Mishell and Abe Hurwitz, Magico Magazine, P.O. Box 156, NY, NY 10002, 1990.

The reason I bought this was to learn how to do the "Penetrating Bands" (commonly called "Crazy Man's Handcuffs") which David Copperfield performed on one of his specials. In this effect, two bands are interlocked on the thumb and first fingers of both hands, preventing separation of the hands without removing the bands from the fingers. But with a little twist, the bands suddenly appear to have passed through each other. The trick, when done well, is visual and effective. The book does a poor job of describing this effect. My experience was that I had to play around with the idea for several hours before I picked up on some of the subtleties that the book neglects. If I hadn't seen it performed previously, I might have skipped the trick completely.
There are a number of other interesting tricks if you enjoy working with rubber bands – but if you do, you might have better materials already. The book appears to have been put together hastily. Some of the tricks are simply dumb. Conclusion: the book is inexpensive (about $10) and may be worth it, but my endorsement is lukewarm.
On the other hand, a new book, Elastrix II by Stephen Minch,
is said to be excellent. A fellow magician told me that is has many variations or improvements of now "classic" tricks by Dan Harlan and features excellent diagrams and explanations.

Milbourne Christopher's Magic Book, by Milbourne Christopher, Thomas Y. Crowel Company, New York, 1977.

An interesting book that promotes Milbourne Christopher. This readable and generally enjoyable book is intended for beginners. It discusses the history of magic a little, then introduces a number of tricks (with many anecdotes from Christopher's experiences) following themes such as mental magic, ropes, cards, and matches. Many effects are not very sophisticated but can be useful, especially as components in your own customized tricks. In general, I'd say there is no reason to go out of your way to get this book.

How to Be (a Fake) Kreskin, by the Amazing Kreskin, St. Martin's Paperbacks, 1996. Paperback, $10.

This book contains a number of interesting tricks and effects, including mentalism and some ways to trick the senses. Kreskin won't admit that his psychic feats are just well done tricks, but he says that he's teaching ways to imitate some of his effects using "fake" methods. He feels that the difference between the fake methods and his actual performances are so great that we should not doubt his abilities. If you can overlook his posturing, it's a worthwhile book.

As a gullible thirteen-year old, I read Kreskin's autobiography, The Amazing Kreskin, and really believed that he had developed incredible mental powers. I was especially impressed by the years of effort it took to be able to perform his demonstration of telekinesis, wherein a sponge ball is made to jump up into a champagne glass under cover of a small curtain. Fortunately, a few weeks later, I was looking through some magic magazines in the home of a kind, retired professional magician in Salt Lake City. In one of his old magazines was an advertisement for exactly the same trick that I had seen Kreskin perform on TV and had read about in his book: the sponge ball that jumps up into a glass. I was especially disappointed that it only cost $25. I've been a little less gullible ever since.

Bill Severn's Big Book of Magic, Bill Severn, David McKay Comp., New York, 1973.

Aimed at young beginners, this book is clear and well written, teaching simple effects that can be done with common objects. For more serious amateurs, it lacks quality effects.

Secrets of Magic by Walter Gibson, Grosset and Dunlap, New York, 1967.

Not for performers, but a book for the curious that attempts to explain magical mysteries throughout history, such as the serpents of Pharaoh, torture tricks (bed of nails and others), fire eating, sword swallowers, bullet catching, snake charming, sawing a woman in half (old variations), and methods of fake mediums and spiritualists. Always interesting, but lacking documentation. I'm not sure how accurate his treatment is of some effects.

The New Magician's Manual by Walter B. Gibson, Dover Publications, New York, 1975.

This is a reprint of a book first published in 1936. There a few good effects, but it has not been of much value to me personally.

Video Review: Chuck Leach's Raven

Well done video, packed with good tips and great demonstrations of the power of the Raven, a novel magical device. Thorough.

Video Review: ITR #1

Useful video demonstrating some powerful techniques with the ITR, including tips for maintenance and repair. Demos include passing objects through a ring, floating dollar, dancing firefly, others. Not quite as packed and as concise as I would like, but still valuable for new owners of the ITR.
The following list is not in any particular order, except that my handful of favorite magicians are listed first, starting with my very favorite:These are some books that I own (one or two have been borrowed):
This hilarious poem by Lance Pierce (used with permission) is best enjoyed by those familiar with things magical.
This hilarious poem by Lance Pierce (used with permission) is best enjoyed by those familiar with things magical.
Back to the table of contents of this page
Beam back to Jeff Lindsay's planet
Magic with paper: my favorite effects
The Real Work of Being a Magician – great article from the New Yorker, 2008.
[Update] Sinister Magic (Death Before Dragons, Book 1): Preview Chapters for My New Urban Fantasy | lindsay magic – Sambeauty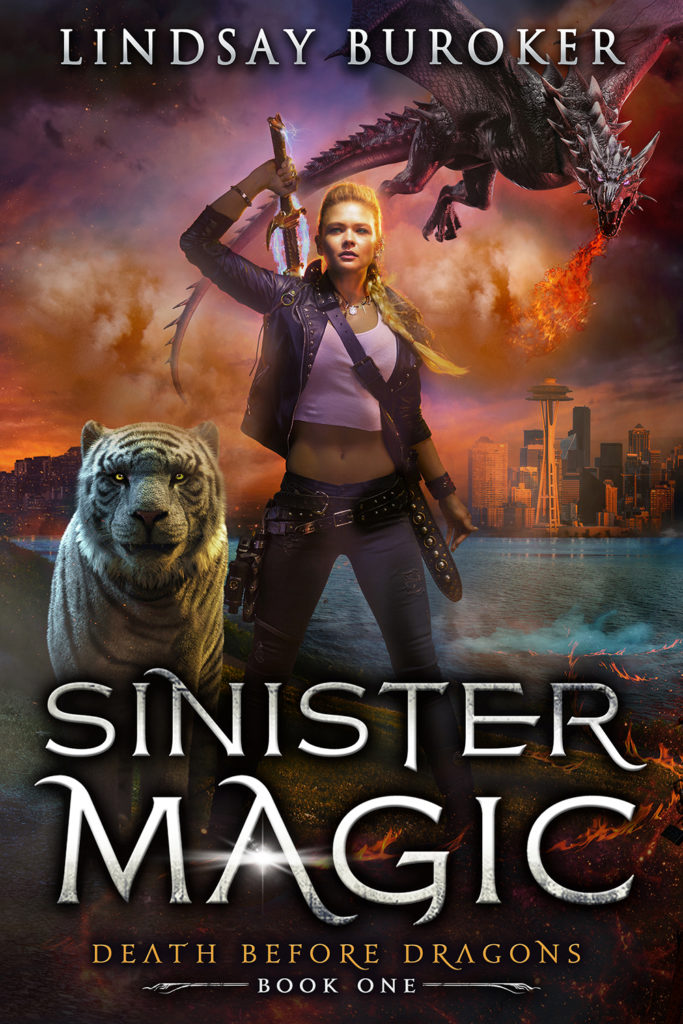 Woo woo, who's ready for some urban fantasy? (Don't worry — nobody says "woo woo" in the book.)
With this first installment of my new series, Death Before Dragons, we've got a kickass half-elven heroine who can handle just about anything… except dragons. And wouldn't you know it? The author threw one in her path. Quite rude. Quite enjoyable. 🙂
If you want to check out the first book, Sinister Magic, you can order it from Amazon:
The ebooks will be exclusive to Amazon for now, so I can participate in the Kindle Unlimited program, but the paperbacks and audiobooks are also coming and will be available everywhere. And as always, if you want to subscribe to my Patreon campaign, at the $5 level or above, you get all of my books early and in both formats (.mobi for the Kindle and .epub for all other e-readers).
Want to check out the first couple of chapters before you buy? Here they are:
Chapter 1
As I scooted a few more inches down the cliff, I came to the end of my rope. And swore. Vehemently and virulently, as appropriate for someone hanging from damp, gritty, vertical rock a hundred feet above crashing ocean waves.
Then I made the mistake of looking down and swore a little more. Heights don't usually faze me. What gets me is the thought of falling from them, landing on sharp pointy rocks, being pulverized like flank steak in a meat grinder, and then being sucked out to sea, never to be seen again.
But the mouth of the cave was less than twenty feet below. I gritted my teeth in determination. I could do this.
"Besides," I muttered to the rock, "you're the idiot who chose not to drive an hour back to a town with a hardware store for more rope."
After finding a suitable handhold, I scooted lower. Climbing back up would be easier, assuming I wasn't injured then. I had to trust that my magical weapons, my magical charms, and the agility that my half-elven blood granted me would see me through this.
Halfway to the cave entrance, my phone vibrated in my pocket. I ignored it, like any sane person would, and continued carefully downward.
But then I paused. It was Friday and almost closing time for people who worked office jobs. If this was the call I was expecting and I ignored it, I'd have to wait until Monday to get the test results.
Making sure I had three points of contact, and one foot wedged so far into a crevice that falling would be impossible, I eased my phone out of my pocket. Yes, it was the doctor's office. I had one bar of reception and the roar of the surf behind me.
"This is Val," I answered, waiting to impress the receptionist with my connection.
"Hello, this is Mandy in Dr. Brightman's office. Is this… Val… mey… jar?"
"Just Val." I didn't correct the pronunciation or explain that my Norwegian mother had thought it would be fun to name me after a Valkyrie.
"We got your test results back, and ev—"
"And what?" The tightness in my chest that had grown familiar these last few months intensified, and I rolled my eyes as I envisioned having to dig into my other pocket for the inhaler Dr. Brightman had given me. What kind of monster-slaying warrior woman developed asthma? "I'm sorry, uh, Mandy. Can you repeat that?"
I glanced at the phone, worried the call had dropped.
"Valmeyjar?" Mandy asked, clearly hearing me as well as I was hearing her. "I'm sorry. I think the connection isn't very good."
A seagull squawked as it flew by, either commenting on the stupidity of my position or wondering if I had French fries in my pocket.
"I noticed. The results?"
"I said everything is normal on your bloodwork. Are you at the coast?"
"Normal?" I used my eyes to burn a laser of skepticism into the face of the phone. "What?"
"Everything is normal."
"Are you sure? I have… issues. New issues." I barely slept, I had a ridiculous urge to take siestas, and now this new betrayal from my lungs.
"Well, your inflammatory markers are a little high, but it's nothing to worry about at this point. Your hormone levels were all good, especially for a woman of your age."
My eyes bored more lasers into the phone. "My age? I'm barely past forty."
"Hormones can get a little persnickety in your forties." Persnickety? Who in this century said persnickety? "Oh, here's Dr. Brightman." Mandy sounded relieved to pass me off.
"Everything is normal, Val," he said. "It's not uncommon to develop asthma and allergies later in life."
"I am not later in life. My mom isn't even later in life. She's seventy-one and hikes the Pacific Crest Trail for kicks."
"If you find yourself using the rescue inhaler more than a couple of times a month, we'll want to get you on a daily corticosteroid."
"I don't take drugs."
Dr. Brightman was diplomatic enough not to point out that my new dependence on the "rescue inhaler" counted as using a drug.
"If you change your mind or have further concerns, we can schedule another appointment, but from what you've told me of your life, you might want to relax a little."
"I've told you next to nothing about my life."
"I can read between the lines. You seem driven. How's work? How's your stress load? Are you able to take time off to relax?"
"Uh." I glanced down at the cave to make sure my target hadn't sauntered out on the ledge to contemplate my potential as a meal. "When I can."
"And how are your relationships with family and friends?"
"I fail to see what that has anything to do with—"
"Do you have a good social support group?"
I thought of Colonel Willard, the military contact who gave me assignments, and Nin, the woman in Seattle who made my magical weapons. Did they count? My ex-husband and my daughter were… people I kept tabs on but never visited, too afraid my work would endanger them.
"It's fine," I said.
"Hm." Why did Brightman sound like he didn't believe me? The connection wasn't good enough to detect lies. "I've got a friend who's an excellent therapist. I can't make appointments for you, but I can make a referral. We can set everything up so you get a text and can book online. Easy peasy. I highly recommend you work on your stress levels, your relationships, and your sleep—do you sleep well?"
No, I dreamed of all the mutilated victims that my targets had killed before I'd killed them.
"That silence speaks volumes, Val. I'll get that referral in pronto. And have you tried yoga? Some relaxation and deep breathing exercises? Meditation? Why don't you work on your lifestyle for six months, and then we'll recheck your inflammation levels."
Yoga? Meditation? Therapy?
"Shit." I hung up and stuffed the phone in my pocket.
I crept down the cliff and landed soundlessly on the ledge at the mouth of the cave. Crouching, I peered into a tunnel far darker than the cloudy gloom of the Oregon coast.
"Yeshelya," I whispered, touching one of the charms hanging from the leather thong around my neck.
My eyes tingled as magic took hold. After a few seconds, the walls of the uneven passage grew clear, as did the spot where it curved around a bend. A few fish bones scattered the rock floor, and the pungent smells of an animal's den mingled with the salty fishiness of the ocean.
Before reaching for another charm, the feline figurine at the center of my necklace that I'd risked my life to acquire, I made myself take a hit from the loathed inhaler. I didn't want a witness to this new weakness I'd developed.
"Sindari," I whispered, a name this time, not a magical word I could barely pronounce. "Time to come out and play."
Gray mist appeared at my side, and my other social connection formed inside of it, the great silver tiger quickly growing as solid as any Earth animal. Only the faint glow that emanated from his black-striped silver fur and the intelligence gleaming in his green eyes gave him away as magical.
It's about time, Sindari said telepathically through our mental connection. The air stinks of wyverns.
There's only one left. We got the other two already. Unless you can smell more? As far as I knew, I had the telepathic aptitude of a smooth, dull rock, but when I responded in my head, Sindari always heard me.
The tiger's nostrils twitched. There is only one. This will be a disappointingly boring battle. His head cocked slightly. Ah, but it is a female. Good. Females are more challenging.
Lucky us.
Yes.
Before we headed in, I took my phone out once more, this time to play the video I'd saved. Shaky footage that someone had recorded in Thousand Acres Park outside of Portland rolled for me.
Three blue wyverns, their leathery wings flapping as they came out of the trees, dove down and attacked children playing on the Sandy River beach. Some of the kids got away. Others were pulled up into the treetops where the wyverns feasted. Four children and a mother had been killed that day.
"Let's do this," I said grimly, replacing the phone and pulling Fezzik out of my thigh holster.
The compact submachine pistol had similar features to a Heckler & Koch MP7, but Nin had made it from scratch, and the elven half of my blood recognized the magic emanating from it and from the individual cartridges in the magazine. The gun was almost as powerful as Chopper, the longsword I'd won in battle long ago and that I wore sheathed on my back. If this went to hell and the wyvern got close before I could take it down, I would switch to the blade.
Sindari led the way. Normally, I wouldn't let someone else go first, but if he was grievously injured, he could instantly return to the safety of his realm to heal.
We crept down the passage, rounding bends, and the roar of the surf grew fainter, replaced by drips and trickles deeper within the cave. Soon, we were close enough to the lair that my own ability to sense magic, one of the few powers I'd inherited from the father I'd never met, let me feel the aura of the wyvern.
The tunnel widened into a chamber twenty feet high and twice that deep. We had gone back far enough that I guessed we were under the spot where I'd parked my Jeep. A hundred feet under it.
Stalactites leered down from above, and stalagmites interfered with the view ahead. I couldn't yet see our target, but I could smell her. More bones littered the floor in here. Some were deer and some were human, with blood and gristle still clinging to them.
My grip tightened on Fezzik, anger simmering as I wondered how many people this intruder in our world had killed in addition to those caught on the video.
She is resting behind those stalagmites, Sindari said. Your mongrel aura is weak, but you should cloak yourself.
It's subtle, not weak. Just like me.
You are as subtle as those massive steel orbs on chains that pummel the sides of your buildings.
Wrecking balls, yeah, yeah. I touched the powerful cloaking charm, another hard-won prize, and faded from the sight and smell of others. My aura, my signature to those who could sense magic, also disappeared.
Sufficient, Sindari said.
Knowing I would prefer to attack from a distance and the higher ground, he led me toward a natural ramp creeping up the side of the chamber to a ledge. Just as the blue scales and folded wings of the dozing wyvern came into view, Sindari halted. His tail went rigid, and he whirled back toward the entrance.
Certain he'd sensed a second wyvern, I also turned, pointing Fezzik at the tunnel. I didn't see or hear anything.
We need to get out of here. Sindari took a step but halted. No, we can't go that way. He's coming that way.
My ferocious battle tiger, the same tiger who'd been worried the wyvern would be too easy an opponent, looked around, nostrils flaring in fear as he sought some back exit from the cave.
I started to ask why, but then I sensed it. Something with an aura so great that even I could feel it from far away. And tell that it was getting closer.
He's coming, Sindari groaned into my mind.
What is it? I'd never sensed anything like this.
A dragon.
Chapter 2
A dragon?
I wanted to be skeptical and dismissive. Dragons didn't come to Earth, not anymore. A thousand years ago, they might have, but they'd left long before the elves and dwarves had disappeared.
It was hard, however, to be skeptical when I could sense the incredibly powerful aura coming closer and closer. It—he?—was in the tunnel. And shape-shifted into something small? How else could a dragon fit in here?
We must hide. There's no way out unless we run past him. Sindari backed farther up the ramp. Which I do not advise. Your weapons will do nothing against him, and my fangs will be like toothpicks if he shifts into his natural form. Even if he is in human form, he'll be impossible to kill.
I followed Sindari, trusting his assessment. My only experience with dragons came through stories from other magical beings who had encountered them in their native worlds.
We scooted back to the deepest corner of the ledge. Below, just visible between two stalactites, the wyvern stirred for the first time.
Her head came up, snout opening to reveal long pointed teeth dripping with poisonous saliva. Her wings spread as she rose on her two legs to sniff the air. The wyvern was a distant relative of a dragon but much smaller, much less dangerous.
She shifted to peer around a tall stalagmite. I found a spot where I could watch her and also see the tunnel. Her talons flexed nervously on the rock floor, and she glanced around the chamber. Looking for an escape?
Her yellow-eyed gaze raked over us, and I held my breath, worried my charm wouldn't be enough to keep me hidden. Sindari, his kind masters of stealth, had innate magic to camouflage himself. He wouldn't be the problem.
But the wyvern's gaze didn't linger. It ratcheted back on the mouth of the tunnel as a human figure in a black robe with silver trim strode into view.
He had a tall, broad build and olive skin, a tidily trimmed beard and mustache, and short, curly black hair. My senses told me he was the dragon, even if he'd shape-shifted into this form to blend in. Not that he would blend in. That robe looked like something out of a Lord of the Rings movie, the silver slippers like something from Oz, and the dragon-shaped gold amulet on his chest was bling that Mr. T would have loved. Lastly, the violet eyes that glowed with inner power were nothing contacts could have achieved.
That violet gaze roamed around the cavern, skimming over us, and I held my breath again. Even if my charm worked on a wyvern, a dragon might not be fooled. I'd scrounged and fought far and wide for my collection of protective magic, and most of the centuries-old trinkets hadn't come with instruction manuals.
"Dysnax crayell, loreth." The dragon's deep baritone rang through the chamber with resonance that Darth Vader would have envied. "Crayell Zavryd'nokquetal."
The wyvern darted fully behind her stalagmite and hid, her pointed blue tail wrapping around the base as if she feared being torn away.
I touched another charm and mouthed the command word, hoping I could activate it without actually speaking. There was no way I was going to make a noise. Dragons could probably hear pins dropping on the moon.
"…and furthermore," the dragon said, the charm translating the words in my mind, "you fled like a coward from your home realm, leaving the slain behind you to be discovered by their families."
The wyvern was a criminal on more than one world? Not surprising. I was relieved to hear the dragon hadn't come for me.
"You will return with me through the portal to be incarcerated until such time that you can be judged by the Dragon Justice Court. They will determine your punishment and your subsequent rehabilitation."
Wait a minute. This guy wanted to take my target through a portal to another world? For rehabilitation?
Oh, hell no. The wyvern was going to die for the children she'd killed and the bones of the dead littered across the floor of this very cave. I'd been hired to kill her, not watch someone else cart her away.
I shifted Fezzik and leaned to the side enough to line my sights up with the wyvern's head.
You can't shoot her in front of that dragon, Sindari warned. Don't be fooled by his human form. He can kill you with a look.
I know. I'm going to need your help.
"I didn't do it," the wyvern called from behind her stalagmite.
"I see the lie staining your soul. Come with me now, or I will forcibly remove you from your miserable squalid hole."
Please say the help you need isn't for me to fight and slay the dragon, because that isn't in my repertoire of abilities.
No, just lead him away. I'll finish the job and sprint out of here. Sprint was an ambitious word considering the climb back up to the top of the cliff, but I would find a way. If he catches up with you, go back to your realm. I'll call you back to Earth later when it's safe.
You know he can follow me home, right?
I hesitated. Are you sure?
Dragons can do anything. There's a reason they rule all seventeen of the Cosmic Realms.
They don't rule on Earth.
Only because they don't care about Earth. Sindari watched as the dragon strode toward the wyvern. Correction: They haven't cared about Earth in the past. For a dragon to come here, something must have changed. Or the wyvern committed an incredibly heinous crime.
She did. I rested a hand on Sindari's back. Please, lead the dragon away. I'm positive he'll be too angry with me to chase you back to your realm.
That is not reassuring. He will kill you.
Not if I get away. Lead him far and lead him fast.
I don't think you understand the power of dragons.
Then this next ten minutes should be educational. I waved him toward the tunnel entrance.
Just don't die in the ocean. I don't want my next handler to be a whale.
Blazing yellow light flared below, stealing all the shadows in the cave. Rocks shattered as the dragon hurled a magical attack at his foe. The wave of power pulverized the stalagmite, and dozens of others in the area, as it hurled the wyvern forty feet to the back wall.
An ominous snap erupted from the ceiling of the cave. Two stalactites plunged down, leaving my hiding spot on the ledge open and vulnerable. I could get killed simply by the raw power being hurled around.
The dragon lifted a hand, and the wyvern floated into the air and toward him. The winged creature spun, trying to flap her wings, her two legs flailing in the air, her lizard-like face panicked.
Now, Sindari, I silently urged.
Sindari didn't argue with me further. He sprang from our ledge and ran toward the dragon, mouth opening as if he would take a bite.
Despite his magical stealth, the dragon sensed him coming. The wyvern thudded to the ground as he shifted his focus toward Sindari.
The great silver tiger sprang for his head. The dragon's eyebrows twitched in faint surprise, but all he did was duck. Sindari sailed over him, snapping at the dragon's ear on the way by, but I could tell it was a feint. Even so, his snout bumped against an invisible shield and glanced off.
The dragon appeared more puzzled than afraid as Sindari, a deadly creature that would make any predator on Earth quake with fear, sailed past him.
Sindari landed and raced into the tunnel. It looked like the dragon would ignore him. My stomach sank.
Then Sindari shouted telepathically, You hatched backward from your egg, you one-winged gimp.
The dragon's violet eyes flared with furious light, and he whirled and started to sprint after Sindari. But he paused in the mouth of the tunnel and looked back at the wyvern. His eyes flared even brighter, and yellow bands appeared around the wyvern, entrapping her and hoisting her in the air.
The dragon sprinted down the tunnel after Sindari.
Be safe, my friend, I thought, hoping I hadn't lied and doomed him to his death.
The wyvern spit and hissed, struggling against the magical bonds, but she couldn't unfurl her wings, and her talons dangled a foot off the floor. With half of the stalactites turned to rubble on the ground, I had no trouble lining up my shot.
I hesitated, wanting Sindari to get the dragon as far away as he could—the full mile that he could be parted from his figurine—before I killed the wyvern. I had no doubt the dragon would know when his would-be captive was dead, and I needed time to escape.
The honorable part of me regretted sniping the wyvern when she was defenseless, but I'd learned long ago that facing magical creatures in fair battles got humans killed. And this wasn't an arena. This was justice, and it was my assignment. The wyvern had committed a crime, and I was the executioner.
I fired, Fezzik's boom thundering in the enclosed space. The magical bullet left a trail of blue in the dim air as it thudded into the side of the wyvern's head.
She shrieked but didn't die instantly. Startlingly, the magical bonds holding her aloft evaporated, and she dropped to her feet. Without hesitation, she whirled, unctuous gray-red blood dribbling down the side of her head, and flew up to my ledge. I shot again, but the bullet barely sank in, her feathered torso protected by some magical armor.
As the wyvern landed, she flung a psionic attack at me—at my mind. A powerful urge plunged into my thoughts, a command to drop my weapons, fall to my knees, and expose my neck for a swift kill.
Growling, I shook it off. Once, that might have worked, but since I'd started carrying Chopper, it had grown easier to combat mental attacks.
The wyvern advanced, her large sharp beak snapping. Powerful leg muscles bunched, and she sprang toward me, talons extending toward my face.
Forcing myself to remain calm, I flicked Fezzik's selector to automatic and held down the trigger. A thunderous rain of bullets slammed into her chest. Her wing flaps faltered, but momentum carried her forward, and she landed right in front of me.
Bullets riddled her chest. Crazy with fear of death—or fear of the dragon—she was somehow still alive, still attacking.
I jammed Fezzik into its holster and tore Chopper from its sheath. As the wyvern lunged, beak snapping, I stabbed at her chest like a fencer. On the narrow ledge, with the wall looming to my right, there wasn't room for sweeping blade work.
A wing swept in as she reversed her lunge and tried to deflect the blow. I was too strong—the sword cut into the blue leathery membrane and crunched into bone.
Blood spattered, and I jerked back, but not before droplets hit my hand and sleeve. Like acid, they burned through my clothing and into my skin, acrid smoke wafting up.
I snarled and lunged in again, this time feinting high for that sneering lizard face. She whipped her wing up to block, but I was already shifting my attack to one of her unprotected legs. The blade sank deep, and she shrieked.
In my mind, I saw the children she'd killed, their crumpled bodies on that blood-drenched beach. I stabbed again and again, varying the targets, and finding her heart. Finally, she fought no more.
As the wyvern tottered, on the verge of falling, I swept my blade across her neck, not caring when my elbow clunked against the stone wall. Her head flew off, thunking to the ground far below.
My blood was roaring in my ears, my heart pounding, but I didn't pause to recover. I sprang over the body as it fell to the ledge, and sprinted for the tunnel. Already, I'd taken too much time.
Through my link with Sindari, I sensed him swimming—he hadn't been able to climb the wall, so he'd leaped to the sea far below. I also sensed the dragon shifting into his natural form—four legs, black scales, great wings that blotted out the sun when he flew—and swooping down after the tiger.
I raced down the tunnel, jamming my uncleaned sword into its scabbard with a wince. There was no time to wipe it down, and I couldn't climb with it out.
Only the knowledge that I wouldn't survive the fall if I tumbled into the sea slowed me down. Carefully, I picked my way up the damp cliff, my fingers shaking.
Wind gusted, needling me through my sweat-drenched clothing and trying to tear me from the cliff. My rope jerked and twisted like a snake on a handler's tongs. It taunted me as the end flapped against the rock to the left of my reach.
Rock gave way, and my foot slipped. I caught myself, heart lurching wildly.
A roar came from the ocean—a menacing baritone sound that made my very bones quail. The dragon.
My feline figurine warmed slightly through my shirt, and I sensed Sindari disappearing from this realm. Another roar echoed over the waves.
My charm didn't translate the noise, but I knew without a doubt that the dragon realized he'd been tricked. And was on his way back.
I lunged and finally caught the end of the rope. Gasping as I banged my knee on the wall, I hauled myself up. I climbed faster than I'd ever climbed in my life, but it was too slow. I knew it was without looking back.
The roar came again. Much closer this time.
I scrambled over the ledge, long wet grass slapping at my face, and lunged to my feet. Not bothering to retrieve the rope, I sprinted for the trees beyond the grass, hoping—praying—the dragon wouldn't be able to fly through the dense evergreens.
In the distance, I could make out my black Jeep. I doubted that it would keep me safe, but if I could get back to the highway, maybe…
The roar sounded again above and behind me. I glanced back, almost tripping at the terror that filled me when I saw those violet eyes in that furious, black reptilian face. Somewhere between a wolf and a lizard, the dragon was a million times more fearsome than either. And he was huge. A hundred feet long? He had to be.
I sprinted into the trees, lamenting that there was no path, no road, to help me through the soggy undergrowth. The dragon pulled up, the dense trees making him pause, and he circled.
Would he fly above them until I passed into a clearing? Or change into his human form to give chase?
The blazing light of a sun filled the air behind me, and heat scorched my back. I caromed off a tree as I glanced back again. Flames roiled after me, trees cracking and catching fire, blackening in instants. Birds shrieked and fled the forest.
The flames licked at my back, but one of the small charms on my necklace grew icy cold, and I didn't feel the pain of being engulfed. The brilliant light stung my eyes, but neither my skin, clothing, nor hair caught fire. Even with the protection of the charm, the heat was intense, and it chased me all the way to my Jeep.
I sprang in, shoving my sword scabbard aside so I could sit, and thrust the key into the ignition. I jammed my foot against the pedal and spun the wheel, groaning because I'd parked in a clearing. Who could have known?
The Jeep roared toward the forest service road that had gotten me most of the way to the cliff. There was no time to buckle my seatbelt, and my head bumped the soft top with each dip and bump. When I made it to the ancient dirt road, mud spattering as my wheels hit it, things didn't improve much, but I steered down it as fast as I could.
Branches blotted out much of the sky above me, but not so much that I didn't see that big black body following me. Easily keeping pace.
"Idiot, idiot," I chanted to myself. Why hadn't I heeded Sindari's wisdom?
A flat straight stretch opened up, and I pressed the accelerator. How far to Highway 101? Seven miles? Eight? An eternity? Yes.
The branches overhead grew less thick, and I knew I was in trouble. I couldn't see anything in the mirrors, but he was up there.
A roar blasted the air right above me, louder than a foghorn. Talons slashed through the soft top of the Jeep, plunging in like daggers. Like swords.
I jerked low in the seat and hit the brakes. A thunderous ripping filled my ears. The dragon's momentum carried him past, but he took the top with him.
"Hard top," I muttered. "Should've gotten a hard top."
As he turned, maneuvering his massive body between the trees to come back for me, I hit the accelerator again. I wasn't going to make it past him. There was no way.
More agile than anything that large should have been, he rose above me and then dove, arrowing straight toward the driver's seat.
I jerked down as low as I could while still holding the wheel. The Jeep lurched off the side of the road, underbrush tearing at the fender. The dragon grabbed its frame and lifted.
When the wheels were pulled off the road, I was so startled that I couldn't do anything but react. I sprang out the open window, almost getting my scabbard caught on the frame, as the dragon lifted my Jeep higher and higher.
My shoulder hit the ground first, hard, and I rolled into the undergrowth, crashing into a tree with a blast of pain. I sprang up, yanking Chopper free.
As powerful as Fezzik's bullets were, they hadn't done as much as I expected against the wyvern. I was afraid they'd be useless against the dragon. All I could hope was that Chopper, the longsword reputedly made in another world, could cut through scale. Because there was nowhere else to run. All I could do was defend myself—or die trying.
The dragon spun and hurled the entire Jeep into a thick stand of old-growth trees. The wrenching crash that thundered through the forest was the most horrific noise I'd ever heard. I couldn't help but gape as the four-thousand-pound Jeep stuck. It was wedged between three great trees and twenty feet off the ground.
Branches snapped as the dragon dropped to the road not ten feet away from me. He landed on all fours, wings spread and powerful muscles rippling under his black scales. The icy violet eyes bored into my soul, and I saw my death.
I hefted my sword, determined to go down swinging, even as I backed into a copse of trees and hoped in vain that he wouldn't be able to reach me with that big body.
He shifted back into his human form, and I groaned. How had I forgotten he could do that?
As he advanced with deadly intent, I muttered, "I am so screwed."
Chapter 3
"Listen, dragon," I said as he strode toward me with murder in his eyes. Could he understand English? I almost laughed at the ridiculousness of my plight. "I know you wanted to take that wyvern somewhere, but she was my assignment. She killed a bunch of humans, and my people wanted her dead, not rehabilitated, whatever the hell that means."
The dragon stopped outside of my sword range, eyeing Chopper briefly—dismissively—before locking his cold gaze on me again. He didn't have any weapons, but I'd already seen him tear thousand-pound rocks apart and hurl that wyvern across the cave with his mind.
"I don't know when you got your assignment," I went on, very slightly encouraged that he'd stopped, even if it was only to glare venomous daggers at me. "But I got mine two weeks ago. She was the last of three wyverns that attacked children here in Oregon, and she was mine to take down. I…" I what? I'd run out of things to say. Did the dragon even understand? "I had dibs," I finished weakly, as if we were squabbling over a toy on a playground.
"You are a bounty hunter?" the dragon asked in his resonant voice. His resonant scornful voice.
I had a feeling he didn't often talk to the people he was about to slay.
"No. I work for the army."
"You are a soldier?" He looked me up and down, skepticism joining the scorn.
With my jeans and shirt half torn off, acid burns on my hand and sleeve, and half the forest tangled in my thick blonde braid, I didn't look my best. It had been more than ten years since I'd been active duty, and if I still had a uniform, I didn't know where it was, but what did some dragon know about what soldiers on Earth looked like or wore?
"Technically, I'm a government contractor for the army now, not a soldier." No need to mention that I took the occasional freelance job on the side. "I get a modest base pay and combat bonuses for completed missions. Which means I make in a year about what it would cost to buy a new Jeep." I thrust my sword toward the mangled vehicle dangling in the trees. I couldn't believe it hadn't fallen down. "And my missions are hunting down and killing magical beings that have committed heinous crimes against humanity. Like that wyvern did."
"You are female."
"So what? I'm six feet tall, can bench more than my bodyweight, and can skin the balls off a ram with my sword."
His eyes narrowed, and a part of me wanted to skin a dragon's balls and show him that I was capable.
"Females do not fight," he said. "They rule society and command males to fight."
It dawned on me that he hadn't been calling me weak. "Oh, so dragons are like bees?"
That violet light in his eyes flared. "Dragons are not like insects."
He stepped forward, and I whipped up the point of my sword. A wave of power knocked me twenty feet, the same as it had that wyvern, and only luck kept me from slamming into a tree. A bed of wet ferns broke my fall. Sort of.
Fortunately, the dragon did not rush after me. He stood between two trees, sunlight filtering through the branches and onto his short black hair and hard face, and scrutinized me. Had I confused him? I hoped so. I also hoped that he didn't eat people he found confusing.
"Listen, dragon." I pushed myself to my feet. "I—"
"Lord Zavryd'nokquetal," he corrected.
"What?"
"My name."
"Can I call you Zav?"
"No."
I pushed myself to my feet. "If you'd ever heard how badly I mangle suea rong hai when I try to order it from Nin's food truck, you wouldn't want me to attempt to say your name."
His eyes narrowed. "You may call me Lord Zavryd. You have interfered with the will of this representative of the Dragon Justice Court. You have slain a wyvern that would have been punished and rehabilitated. We do not kill dragons or dragon-kin, no matter how weak and degenerate they are."
"Sorry, but like I said, I had the assignment first. She was mine to take down, and I did." I lifted my chin. Maybe he appreciated someone looking him in the eye. And maybe someone who worked for the justice-whatever wouldn't kill me. But he'd only mentioned dragons and dragon-kin as worthy of keeping alive, not humans.
His nostrils flared, more like the dragon he'd been than the human he was now, and he looked me up and down again. Disdainfully.
"You are part human, that verminous infestation that blights this world, but…" He sniffed, nose wrinkling. "You also smell like an elf."
"And here I thought I smelled like ferns and dirt."
I'd been twenty-one and not-dying of what should have been mortal wounds after a helicopter crash before I'd believed my mother's story that I had an elf for a father. After that, I'd accepted it and learned to appreciate the handful of atypical aptitudes it gave me, such as the ability to heal quickly from wounds. Already, the acid burns in my skin had stopped hurting. That didn't mean I could survive having a dragon snap me in half like a toothpick.
"An elf would never lower herself to be an assassin for humans." He curled his lip. "Your trinkets and cat will not protect you if you irritate the Dragon Justice Court."
He turned and walked toward the road.
It took me a minute to realize that he was done insulting me and leaving. Was I actually going to survive this day?
When he reached the road, he faced me again. "If you interfere with my work again, I will eliminate you."
His eyes sent chills through me, but I made myself meet that gaze with all the confidence I could muster. "I'll keep that in mind. Any chance you're on your way back to whatever realm you came from?"
Something flashed in the dragon's eyes, some emotion that was, for the first time, not irritation, indignation, or pomposity. Was it… wistfulness?
"No. I have many criminals that I must remove from this benighted prison yard of a planet. Stay out of my way, mongrel."
He—Zav, was all I would call him—shifted from human form to dragon in a second, then sprang into the air, muscular legs propelling him up to the treetops before he extended his wings. He flapped them twice and soared out of view.
I lowered my sword and looked at my Jeep. How was I going to get home?
My phone buzzed. I dug it out of my pocket.
Great news, Ms. Thorvald. It was Dr. Brightman. My therapist acquaintance had a cancelation on Monday and can work you in. Here's the link to book the appointment.
I groaned. I'd rather talk to another dragon than a therapist.
~
If you've enjoyed this preview, you can continue the adventure by picking up a copy of Sinister Magic (Death Before Dragons, Book 1).
น้องฉัตร แนะนำ Lindsay Magic BB Cream เคล็ดลับการลงผิวเจ้าสาว ที่น้องฉัตรเลือก
Lindsay Magic BB cream
ทำขึ้นมาเพื่อ ให้ผิวกระจ่างใสภายใน1 นาที
ในเวลาที่ต้องการปกปิดอย่างเร่งด่วน
ผิวมีส่วนสำคัญทำให้ผู้หญิงโดดเด่น
BBcream ผิวสวย ออร่า บางเบา ปกปิด กันแดด กันน้ำ ผิวใส spf30PA++
ราคา 750฿ +ค่าส่งems 50฿=800฿
สั่งซื้อ 2 ชิ้น ราคา 1,500฿ ส่งฟรี ems
คลิกมาเลยคะ ✅✅✅
สนใจสินค้า
Line: gopp_sd
หรือคลิก⤵⤵⤵
http://bit.ly/2gH17B4
นอกจากการดูบทความนี้แล้ว คุณยังสามารถดูข้อมูลที่เป็นประโยชน์อื่นๆ อีกมากมายที่เราให้ไว้ที่นี่: ดูความรู้เพิ่มเติมที่นี่
Crystallize – Lindsey Stirling (Dubstep Violin Original Song)
My new album Artemis is out now! https://found.ee/LS_Artemis
Come see me on the ArtemisTour! Tickets are on sale now!
Head here for tour dates, tickets, and VIP upgrades: http://www.lindseystirling.com/
Stream/Download 'Lose You Now' here: https://found.ee/LS_LoseYouNow
Purchase my album Brave Enough on iTunes! http://found.ee/BEAppleMusic
Get the Lindsey Stirling Deluxe Album featuring \"Crystallize\":
Amazon http://smarturl.it/LindseyStirlingAMZ
Newbury http://smarturl.it/LindseyStirlingNBY
Best Buy http://smarturl.it/LindseyStirlingBBY
Barnes \u0026 Noble http://smarturl.it/LindseyStirlingBN
iTunes: http://www.smarturl.it/LindseyStirlingIT
Target: http://www.smarturl.it/LindseyStirlingTAR
Sheet Music:
https://lindseystirlingsheetmusic.com
http://www.icecastles.com/
Make sure to check out the link above for more info on where this was filmed. This place was made by the Christiensends and it is located in Silverthorne Colorado. It's oneofakind and it's open to everyone!
Music Produced By Marko G. He can be reached at: brickhousela@gmail.com
Thanks to Devin Graham for his cinematography:) He is amazing and you have to check out his channel: http://www.youtube.com/user/devinsupertramp
The name of the song has a significant meaning and you can see why I called it \"Crystallize\" here: http://www.youtube.com/watch?v=tAvzsjcBtx8
I have great respect for Dr. Emoto and his work. Check out his website here: http://www.masaruemoto.net/english/
https://www.facebook.com/lindseystirlingmusic
https://twitter.com/LindseyStirling
http://www.lindseystirling.com/
Mobile App:
http://mobileroadie.com/apps/lindseyapp
Merchandise:
http://www.shopbenchmark.com/lindseystirling
Check out my \"Behind the Scenes\" channel:
http://www.youtube.com/lindseytime
Sign up for my supercool newsletter here ;)
http://lindseystirling.fanbridge.com/
Lindsey Lomis – Magic In The Madness (Official Visualizer)
Official visualizer for \"Magic In The Madness\" by Lindsey Lomis
Listen to my new EP 'In the Madness': https://lindseylomis.lnk.to/inthemadness
Follow me:
https://www.instagram.com/lindseylomis/
https://www.tiktok.com/@lindseylomis/
https://twitter.com/lindseylomis
https://facebook.com/lindseylomis
https://lindseylomis.com
Lyrics:
I want to believe that all my little worries are deceiving
Crying for no reason living in the memories that I keep
Like angels in the snow
Dancing all alone
As the river flows
I'm sinking like a stone
All that I want, that I want's, a little magic in the madness
And all that I'm looking for is a little beauty in the sadness
Where's the magic in the madness
Ohh magic in the madness
Should be lovely instead it's tragic
Tell me where's the magic in the madness
Keep threading the needle
I'm a spinnin' record like most people
If I give up my possessions will I find the answer to the question
Like flowers in a grove
Swimming in our clothes
As the river flows
I'm sinking like a stone
LindseyLomis InTheMadness MagicInTheMadness
Shin Lim IS BACK! With Lindsey Stirling on America's Got Talent 2021 | Magicians Got Talent
Watch the amazing Shin Lim \u0026 Lindsey Stirling on America's Got Talent 2021 (AGT), as they wow the judges with their performance. Check out Shin Lim's incredible magic card tricks and Lindsey Stirling dancing.
What did you think about their performance?? Let us know in the comments below…
\r
\r
Watch MORE Magician's Got Talent: https://www.youtube.com/channel/UCXXnwJW6WTK2b3i3p6GLaPw/videos\r
\r
▶︎ Facebook: https://www.facebook.com/MagiciansGotTalent/\r
\r
Magicians Got Talent brings together the very best magic and illusions worldwide talent, creating a central hub for fans of the show to keep up to date with the other sensational performances from around the world.
ShinLim Magic AGT
Shin Lim Performs His KISS Transfer Trick And Its SHOCKING! | AGT Champions
America's Got Talent: The Champions | Season 1 | The Finale
AGT AmericasGotTalent TalentRecap
For more HD videos, news, analysis and recaps of America's Got Talent: Champions – please subscribe \u0026 follow Talent Recap:
https://talentrecap.com/
TALENT RECAP ON SOCIAL:
YouTube: https://goo.gl/6pybnw
Like: https://www.facebook.com/talentrecap/
Follow: https://twitter.com/TalentRecap
Google+: https://goo.gl/jR9eS5
Instagram: https://www.instagram.com/talentrecap/
AMERICA'S GOT TALENT ON SOCIAL
Like AGT: https://www.facebook.com/agt
Follow AGT: https://twitter.com/agt
AGT Tumblr: http://nbcagt.tumblr.com/
AGT Instagram: http://instagram.com/agt
ABOUT AMERICA'S GOT TALENT: THE CHAMPIONS
\"America's Got Talent: The Champions\" brings together the world's most talented, memorable and allaround fanfavorite acts from past seasons of \"AGT\" and the other \"Got Talent\" franchises, spanning 194 territories.
The \"Got Talent\" format has had more than 900 million global viewers since it began airing in 2006 and has aired in 194 markets worldwide. \"Got Talent\" holds the Guinness World Records title as the Most Successful Reality Television Format in history, with 70 local versions produced across Europe, Asia Pacific, the Middle East, Africa and the Americas. The series, from NBC, Fremantle and Syco Entertainment, will feature the starstudded judges panel from \"America's Got Talent\" Executive Producer Simon Cowell, Mel B, Heidi Klum and Howie Mandel as well as Host Terry Crews, costar of NBC's \"Brooklyn NineNine.\"
Find America's Got Talent: The Champions trailers, full episode highlights, previews, promos, clips, and digital exclusives here.
ABOUT TALENT RECAP
Talent Recap is the 1 independent website which is exclusively dedicated to the fans of the most popular talent shows around the world. As passionate fans of these shows, we provide news, analysis and fan engagement on America's Got Talent, Britain's Got Talent, The Voice, The X Factor, American Idol, The Four and its contestants.
Talent Recap
https://goo.gl/nZgzW8
นอกจากการดูบทความนี้แล้ว คุณยังสามารถดูข้อมูลที่เป็นประโยชน์อื่นๆ อีกมากมายที่เราให้ไว้ที่นี่: ดูวิธีอื่นๆWedding
ขอบคุณมากสำหรับการดูหัวข้อโพสต์ lindsay magic